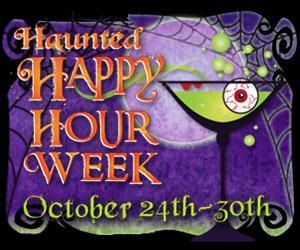 ORANGE COUNTY, Calif., OCTOBER 2010 – On the heels of Orange County Restaurant Week is the second annual Happy Hour Week to be held Sunday, October 24 through Saturday, October 30. Once again, restaurants, bars, pubs and breweries throughout Orange County will promote their best drinks and appetizers with many restaurants following various themes, including a "Haunted Happy Hour" or offering "Happy Hour, All Day...All Week." The official Happy Hour Week website,
www.HappyHourWeek.com
, lists participating establishments and their special bar menus for both food and beverages, many of which will include specialty "mocktails" (non-alcoholic options).
"This Happy Hour Week was created to offer some light-hearted fun and to promote Orange County's diverse food and beverage offerings. This is a great time to gather with friends and enjoy various atmospheres, appetizers, and, of course, tasty libations featured across the region," commented Pamela Waitt, president of the Orange County Restaurant Association, which produces Happy Hour Week. "The Orange County Restaurant Association strives to create innovative events to help Orange County shine and help reaffirm its place in the culinary world. This event gives the association's members an opportunity to get creative and have fun; and with our participants' varying offerings, from wine and cheese pairings, to nachos and beer, there is something to satisfy every guest."
See the list of participating restaurants below. If the name of the restaurant is clickable, you can click it to see what the restaurant is offering for Happy Hour Week. Please visit the Happy Hour Web Site for the most updated information.
http://www.happyhourweek.com