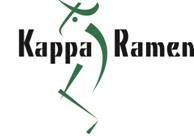 Kappa Ramen
3024 W Ball Road, Anaheim, CA 92804
Tel: (714) 828-2210
www.kapparamen.com

I have recently had the chance to try Kappa Ramen in Anaheim thanks to the wonderful PR rep. The ramen at this shop is fantastic! Here is their menu:
THE RAMEN

Kyoto Style ($7.45), tonkotsu pork broth

Ton Ton Ramen ($8.75), tonsoku pork knuckles served on top of tonkotsu ramen

Tokyo Style ($6.95), shoyu (soy sauce) soup base

Sapporo Style ($6.95), miso soup base

Kappa "Signature" Ramen ($9.95), chef's tonkotsu broth infused with organic kimchi and served with avocado, spinach, bean sprouts and corn

Chicken Ramen ($8.75), char-grilled boneless chicken thigh served on top of shoyu ramen



Chef Eiji Kanazawa's basic broth recipe uses chicken and pork bones. Noodles are made according to Kappa Ramen's specifications by Sun Noodle. Extra toppings ($.50 to $2 each) include: egg, kimchi, avocado, spinach, diced tomato, bean sprouts, corn, scallions, garlic, ginger. Extra chashu and noodles (kaedama) also available. Make any broth spicy for $1.



OTHER MENU HIGHLIGHTS
Hiyashi Chuka ($8.95), cold noodles served with chicken and sliced vegetables mixed with a soy-vinegar dressing

Yaki Soba ($7.95), stir-fried noodles with pork and cabbage

Gyoza ($6.00, 8 pieces; $3.45, 4 pieces), pot sticker or deep-fried

Fried Rice ($6.95; $3.95 for half-order)

Ika No Sugata Yaki ($9.50), grilled squid with tangy ginger sauce

Tofu Steak ($4.50), slices of tofu marinated in ginger soy and pan-fried until golden brown

Kappa Chicken Salad ($4.50)

Sides: Chashu ($4.50); Buta Kimchi ($4.50), sliced pork sautéed with kimchi

Desserts: Kappa Pudding ($2.50)

Beverages: Shochu Cocktails ($6) and spiked Kappa Shave Ice ($7) in sour apple, mango, pomegranate or blue raspberry; sake and beer by the bottle and pitcher
I had the Kappa Signature Ramen and really enjoyed it. It was pretty spicy! If you're looking for a great bowl of ramen in OC, you should definitely try this place!
HOURS OF OPERATION:
Tuesday to Thursday 11:30 a.m. to 2:30 p.m. and 5:30 to 10 p.m.
Friday and Saturday 11:30 a.m. to 2:30 p.m. and 5:30 to 11 p.m.
Sunday 11:30 a.m. to 9 p.m.