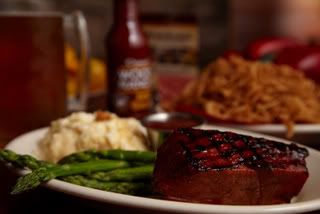 Irvine Spectrum Center, already known as one of Orange County's favorite dining destinations, has announced that two more popular restaurants will open in Summer, 2011. Wood Ranch BBQ & Grill and Capital, which both enjoy other successful locations, will further expand the array of international dining options at Irvine Spectrum Center.
Family favorite Wood Ranch BBQ & Grill will open its third Orange County location at Irvine Spectrum Center, and first OC location to serve both lunch and dinner. The restaurant offers a premium-casual American menu featuring award-winning barbecue. Menu items include Certified Angus Beef Steaks and Burgers; Prime Rib; slow-roasted, mesquite-grilled Tri Tip Roasts; Premium American Baby Back Ribs; Carolina Pulled Pork; and locally-raised fresh Chicken.
Fresh fish such as Idaho Trout and Atlantic Salmon will be on the menu, as well as numerous unique salads, and desserts designed to be shared. In addition, Wood Ranch offers a children's menu that has been named "One of the Best Kids Menus in America," by Restaurant Hospitality magazine.
Wood Ranch will also have a full bar, including an extensive list of reasonably-priced wine. The 6,188 square foot restaurant will be located in a new space adjacent to Edwards Irvine Spectrum 21.
Capital, known for its Chinese dim sum and seafood restaurants, will open a second Irvine location featuring casual dining with an East meets West theme. Along with Chinese fixtures and modern artwork, Capital will have multiple TV screens in the bar to watch your favorite teams. The full bar will offer beers on tap, sake, wine and specialty drinks.
Capital will serve more than 100 different types of dim sum, including classics such as Shiu Mai, Shrimp Har Gow, Steamed BBQ Pork Buns and Shanghai Dumplings to name a few. On the dinner menu, guest will enjoy favorites such as House Special Lobster, Alaskan King Crab, Honey-Glazed Walnut Shrimp, French-Style Filet Mignon and Peking Duck. Located near Nordstrom, Capital will occupy more than 8,000 square feet with an additional 1,000 square foot patio.
"Irvine Spectrum Center has long been known as a leading restaurant location in Orange County," said Stacie Ellis, Marketing Director for the center. "We are excited to add these restaurants that will further enhance the dining experience for our customers."
Irvine Spectrum Center, owned by Irvine Company, is located where the I-5 and I-405 meet in Irvine. Irvine Spectrum Center offers a unique mix of shopping, dining and entertainment in a beautiful Spanish-themed atmosphere. The Center draws more than
15 million visitors annually to Edwards Irvine Spectrum 21, Nordstrom, Macy's, Target, H&M and more than 130 other specialty stores, restaurants and entertainment venues.
For more information, please visit
www.ShopIrvineSpectrumCenter.com