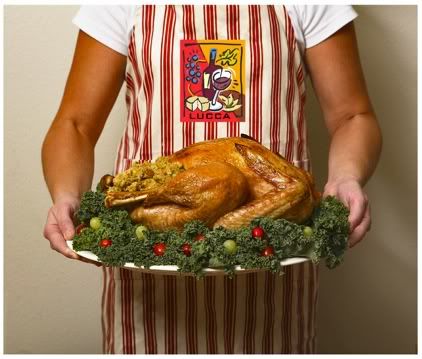 TWO OPTIONS: Traditional –or- Gourmet Thanksgiving meals with Free-Range Turkeys & all the trimmings available for takeout
IRVINE, Calif., November 2011 – This Thanksgiving, diners will be able to start their own traditions with a little assistance from LUCCA, who is offering to handle everything from shopping for groceries and scrubbing roasting pans, to worrying about whether the turkey is cooked to the right temperature and picking out wines! The best part of the deal? You can choose from either a "traditional" or "gourmet" dinner menu, and both feature Free-Range Turkeys cooked to perfection in combi ovens!
With LUCCA's Thanksgiving takeout dinner, guests may entertain 2 or 200 guests with ease and offer a special mouth-watering menu guaranteed to delight any budget and palate. Both "traditional" and "gourmet" takeout dinners are capable of feeding up to 10 guests, and include a lavish spread featuring a Free-Range Turkey, stuffed and roasted to perfection, for $325 (add $32.50 per person for each additional guest). In addition, a complete meal for individual diners may be purchased for $32.50 each. All meals must be ordered by Friday, November 18th for pick up on or before Thursday, November 24th at noon. Orders may be placed by calling (949) 725-1773.
LUCCA's Traditional Thanksgiving Dinner includes:
* LUCCA Free-Range Turkey (12-14 lbs for 10 people; larger turkeys available)
* Apple-Pork Sausage, Fennel and Sage Stuffing
* Rich Turkey Gravy
* Cranberry-Orange Chutney
* Mashed Yukon Potatoes and Parsnips with Parmesan Cheese
* Fire-in-the-Sky Yams with Candied Walnuts
* Farmer's Market Green Beans with Hazelnuts and Fresh Oregano
* LUCCA Salad: Organic Mesclun Greens, Market Tomatoes, Roasted Peppers, Kalamata Olives and Balsamic Vinaigrette
* Assorted Silver-Dollar Dinner Rolls
* Pumpkin Spice Cheesecake
LUCCA's Gourmet Thanksgiving Dinner includes:
* Lucca Free Range Turkey (12-14 lbs for 10 people; larger turkeys available)
* Pomegranate Molasses-Maple Syrup Reduction Glaze
* Wild Rice, Orange, Almond and Goat Cheese Stuffing
* Rich Turkey Gravy
* Caramelized Apple-Cranberry Chutney
* Mashed Yukon Potatoes, Cilantro, Yoghurt and Roasted Garlic
* Roasted Yams and Carrots with Rosemary
* Caramelized Brussels Sprouts with Parmesan
* Fresh Arugula and Butter Lettuce Salad with Shaved Fennel, Blackberries, Feta and Poppyseed Dressing
* Assorted Silver Dollar Dinner Rolls
* Pumpkin Custard Profiteroles with Maple Caramel
"I am proud to say that our attention to detail is 'legendary,' which means that our customers can relax and enjoy themselves," comments Cathy Pavlos, Executive Chef and Co-Owner of the Irvine eatery. "I use the freshest, quality imported and domestic products that I can find – products, that in many cases, are natural, organic, and hormone, pesticide and antibiotic-free."
LUCCA also offers both Traditional and Gourmet dinner items a la carte. For more information or to place orders, guests may call (949) 725-1773.
ABOUT LUCCA
LUCCA is definitely more than its name implies – it is an inviting space where casual friendliness quickly meets a few chic big-city elements, including cozy tables on a large banquette, a gas-burning fireplace and sensual curved features. LUCCA, which has been referred to as "an urban concept in a suburban center," has many facets. Having joined the Orange County dining landscape in 2005, LUCCA in Irvine has become known for its one-of-a-kind dining, off-site catering and wine bar. The eatery offers sandwiches, salads and pastas on its lunch menu, but come dinnertime the café changes to a European-type bistro that serves small plates, cheese and charcuterie. The whole menu is based on the use of healthy and high quality ingredients, such as certified Angus beef, free-range turkey, hormone-free chicken, wild salmon and locally grown organic produce. The bar features more than 30 wines by the glass, with a choice of 2.5-ounce or 6-ounce pour of wine for $5 to $14.
LUCCA is located in the Quail Hill Village Center (6507 Quail Hill Parkway) in Irvine. For more information, make reservations or order LUCCA2Go, please call (949) 725-1773 or visit
www.LUCCACafe.com
.