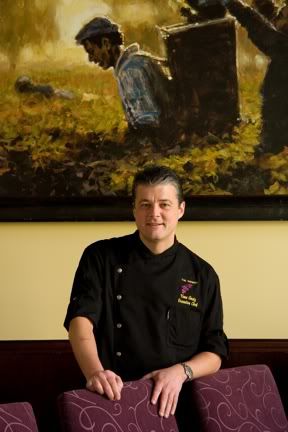 Tustin, CA (November 2011) – The Winery Restaurant will allow guests to indulge in one of the world's most treasured foods during its inaugural TRUFFLE WEEK celebration November 17th through 23rd. Executive Chef/Partner Yvon Goetz will offer a special three-course menu of dishes featuring truffles, including a decadent dessert ($80 per guest, excluding tax and gratuity).
Prior to the weeklong celebration, on Wednesday, November 16th Chef Goetz will present a five-course TRUFFLE DINNER, accompanied with wine pairings by Managing Partner/Sommelier William Lewis. The price of this extravagant wine dinner is $200 per guest (excluding tax and gratuity), and is extremely limited in seating. Guests are encouraged to reserve early by calling 714-258-7600 to avoid disappointment.
The Winery Truffle Dinner Menu
Wednesday, November 16th – 6:30 PM
$200 per guest++
Menu by Executive Chef/Partner Yvon Goetz
Wine Pairings by Sommelier/Managing Partner William Lewis
Colorado Buffalo "Deux Facons" Carpaccio/Tartare
Truffle Grilled Cheese - Mache Salad
*****
Jumbo Maine Scallops and Burgundy Black Truffle Napoleon
Champagne-Chervil Butter
*****
Italian White Truffles and Porcini Risotto
Red Wine Reduction and Fresh Parmigiano-Reggiano
*****
Black Truffle Crusted Beef Tenderloin
Braised Truffle Potatoes & Organic Baby Vegetables, Cabernet Essence
*****
Warm Black Truffle Cheesecake
Micro Greens and Black Truffle Vinaigrette
Space is limited for the November 16th Truffle Dinner; reservations required by calling 714-258-7600.
ABOUT THE WINERY RESTAURANT & WINE BAR
The Winery Restaurant & Wine Bar pairs contemporary California regional cuisine, with a hip, vibrant, sophisticated setting, to create a cutting-edge dining experience. On the heels of being named "Restaurant of the Year" by the Orange County Concierge Association in its first two years in business, The Winery was recently awarded with OpenTable's Notable Wine List designation, and presented with Sommelier of the Year, 2011 Golden Sceptre Award, and 2011 Golden Bacchus Wine Award for its exceptional wine program from the Southern California Writers Association. Partners JC Clow, William Lewis and Patrick "Irish" Quinn, spent more than 12 years together at Morton's South Coast Plaza, before embarking on their own journey to open The Winery. The restaurant has migrated from their steakhouse past, as the menu focuses on contemporary California regional cuisine at its finest, with Executive Chef & Partner, Yvon Goetz, directing a team that delivers a culinary experience straight from the Wine Country.
The restaurant's wine list, which currently offers 650 selections, changes weekly, offering diners a wide range of varietals from around the world. Guests can look into and even tour the restaurant's 800-square-foot, climate-controlled cellar, which can hold up to 6,500 bottles!
The Winery offers a warm and passionate menu complimented by the perfect wines -- endless possibilities and something to suit every palate. The Winery Restaurant & Wine Bar is located at The District in Tustin (2647 Park Avenue, Tustin, California 92782). For more information, call 714.258.7600 or visit
www.TheWineryRestaurant.net
.